I LIE DOWN WITH A CROCODILE
Songs From the Reptile Brain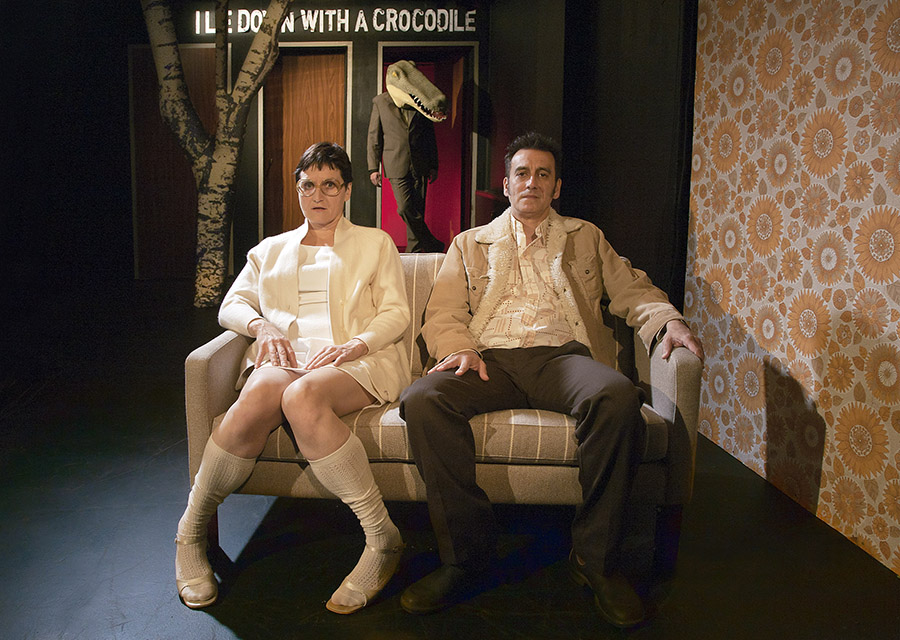 Premiered Oct 2011 at TEATER FÅR302 - DK Tour of 20 performances autumn 2013.
In I Lie Down With a Crocodile the audience is invited on a strange journey into the disfunctional corners of the criminal brain.
Combining the blackest comedy with poetic imagery, an electronica/looping soundtrack and song, the production explores the nature of empathy and the question of why people commit evil acts.
A superficially charming performing couple welcome us to a show about criminology, but end up getting lost in their own fascination with violence,criminality and the real-life case of Fred and Rosemary West. The boundaries between everyday life, fantasy, criminal impulse and action become blurred. Dream and reality become indistinguishable until the normal concepts of morality no longer apply.
Livingstones Kabinet get to grips with the thoughts and feelings we all experience when confronted with bestial acts in the wider world and in the house next door. I Lie Down With a Crocodile is a frightening, beautiful and absurd musical theatre chamber piece realized with Livingstones Kabinets trademark oblique, dark humour.


Press Quotes:


"We begin with a wink of the eye and are slowly led into the darkness.
Murderously fascinating".
Berlingske Tidende (4 stars) 


"Musically innovative theatre with a vengeance!... anyone who is fond of absurd and trippy theatre should see this unique mish-mash which combines mankind's darkest power struggle with dry Scottish humour".
Kulturkongen (5 stars) 


"As always, the Kabinet deliver the goods... gripping, strange but perfect theatre.
This show can only be recommended."  Teaterbloggen.dk (4 stars)


"...beautiful, poetic, minimalist, intense, provocative, charming, exciting, well thought-through, well played and universal. The performers go all the way and have a fine sense of detail." 
Kulturkongen (5 stars)
On stage Pete Livingstone, Nina Kareis, Jacob Nienstædt
Composer Pete Livingstone
Direction Adelaide Bentzon og Nina Kareis
Set design Julie Forchhammer
Lighting design Mikkel Jensen
Sound design Erik Christoffersen
Dramaturgy Louise W. Hassing
PRESSEPHOTOS
Produced with support from Statens Kunstråds Musikdramatiske pulje, Bikuben Fonden and Danmarks Nationalbanks Jubilæumsfond