BABBLE BABBLE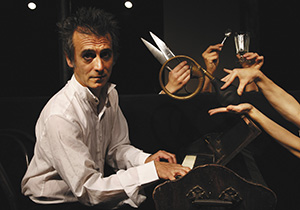 NOMINATED FOR THE REUMERT AWARD 2008 in the category "Best music-theater/show"
Babble Babble is a contemporary DADA-ist performance piece by an ensemble of six musicians, actors, singers and dancers; an absurd and vivacious critique of a global society dominated by religious and ideological faith. Are we doomed to live in a world divided between those who have a belief and those who doubt this belief?
Babble Babble is a celebration of our common humanity in all its strange and wonderful manifestations.
On stage: Pete Livingstone, Nina Kareis, Pernille Koch, Svend E. Kristensen, Robert Snorrason og Martin Ammitsbøl
Composer: Pete Livingstone
Director: Nina Kareis Livingstone
Choreography: Adelaide Bentzon
Set design: Dorte Holbæk
Costumes: Thomas Winkler
Babble Babble is produced with support from: The Danish Arts Council, The Danish Arts Foundation, The Danish Actors Union, The Danish Artists Union, KODA.
Private funding: Nordea Danmark-fonden, Danmarks Nationalbanks Jubilæumsfond af 1968
Press Qotes


"Rekindles your belief in theatre!".
Per Theil (Politiken)




Dreadfully obscure, wonderfully absurd and very challenging….weird, warped, eccentric, yet at the same time tight and disciplined.
(Herning Folkeblad)



"Absurd, hilarious and thought-provoking".
(gregersdh.dk)
"The elegance of what they do is impeccable....If anyone can toy with the nonsensical nature of language in an intelligent manner it's ivory-tinkling Pete Livingstone and accordion-thrumming Nina Kareis, here in the company of a whole band of singing, humming and clattering Livingstone performers on the rampage in a chaotic six-piece Babelic metaphor".
Anne Middelboe Christensen (Information 20.11.07)


"The music in Babble Babble is well worth listening to, whether the group are in barbed, insinuating, melancholy mode or whether we are being hurled into the midst of a stuttering, deafening cacophony employing what seems to be the entire contents of a garden shed: car horns, accordion, cowbells, whoopee cushions, teaspoons and sheep-shears. The whole things is magnificently set up...with plastic signalmans's choreography and lunatic collage costumes. Faith? You won't lose it. At any rate not faith in Livingstones intelligent kabaret project".
Jakob Steen Olsen (Berlingske Tidende)


"A one and a quarter hour musical delicatessen. Music theatre of distinction".
Henrik Lyding (Jyll.Posten)


"So gifted, so amusing. Pete Livingstone is God's gift to us. Thank you!".
Kurt Jensen (Copenhagen "What the Readers Think" on ibyen.dk)
PRESSEPHOTOS